THE DRAIN OPENER THAT WORKS WHEN OTHERS WON'T.
Clogged drains are no match for FLOW-EASY® Sulfuric Acid Drain Opener. Its proprietary virgin sulfuric acid formula dissolves grease and other organic material fast – so your drains open almost instantly. FLOW-EASY® is the fast-acting, professional-strength drain opener that plumbers reach for first. But it's still safe enough for home use in all types of drains and toilets, even with septic systems.
FLOW-EASY® powers through clogs other drain openers can't. And it can be poured into standing water, eliminating the need to bail the sink before using. If you truly want to save time and money, make FLOW-EASY® part of your regular maintenance program.
SAFE ON:

QUICK SPECS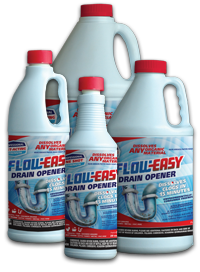 POWERFUL – Proprietary formulation of 93% buffered sulfuric acid with inhibitors to dissolve any organic material including coffee grounds, grease, hair, paper, sanitary napkins, rags, sludge and/or soap
FAST – Professional strength to unclog drains fast – the clog is typically free-flowing within 15 minutes of treatment
NON-DESTRUCTIVE – Will not harm PVC pipe or septic tanks, and is safe to use for all common drains, cleanouts, sinks and toilets
SAFE – No blowback and little to no odor, plus safety-focused packaging
TRUSTWORTHY – Made in the USA
Safety Data Sheet | download